Sales Navigator Pro-tips for Seamless.AI Power Users
Seamless.AI's Chrome extension works across LinkedIn's entire suite of products (For a more general overview of our Chrome extensions functionality on LinkedIn, click here). But the combination of Sales Navigator and the Seamless.AI Chrome extension has consistently been the most popular search tactic for our quota crushers.
If you're not currently a Sales Navigator customer, we strongly recommend running a trial on the platform once you've installed the Seamless.AI Chrome extension. You can review Sales Nav pricing and start a FREE trial from right here.
"Wait, so I have to buy something else to use Seamless.AI?" Nope. You can search and research contacts directly from the app, or use the Chrome extension directly from company websites, your CRM, or from any of LinkedIn's free products.
But honestly, any Seamless.AI user who's combined the forces of the Chrome extension with LinkedIn Sales Nav never searches any other way again. You don't need it to accomplish your baseline goals, but if you truly want to achieve power user status, you should give it a try.
Here's why.
Research 25 contacts per page instead of 10
Both LinkedIn Standard and our search engine display 10 contacts per page. Sales Navigator increases that page count to 25, which means you can search 150% faster in Sales Navigator than anywhere else. This reason alone is often the deciding factor in determining ROI for Seamless.AI users considering a Sales Navigator upgrade.
Can't I skip going page by page and just research everyone in my Sales Nav search results in bulk? LinkedIn's terms of use and commercial use policies require you to go page by page. This will still save you hundreds of hours of work compared to finding the real time data provided by Seamless.AI manually.
Target specific segments or niches of customers for rapid research
In addition to the expanded search results, Sales Navigator also provides significantly more search filters than LinkedIn standard, such as:
Company Headcount
Seniority Level
Years in Current Role
Years at Current Company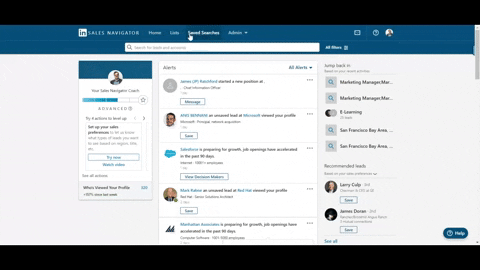 Many of these data points are unique to LinkedIn, making Sales Navigator the most effective place to segment and identify these customers based on the data LinkedIn has in their profile.
Can I still use Seamless.AI to search by Location, Industry, and Company Headcount without the Chrome extension? Absolutely. Our real time Company Search allows you to locate net new accounts by filters like Location, Industry, Headcount, Revenue, Technographics, etc. For more detail on how to run these searches from our app at login.seamless.ai, click here for documentation on searching for bulk companies.
But yet again, a Sales Navigator license makes your segmentation and research time significantly more efficient.
SALES HACK: Use the Years at Current Company filter to create mass outreach lists that you can still personalize. "I see you're still in your first year at COMPANY x." Prospects in the first year of a leadership role are looking to make their mark and deliver value quickly to establish their worth. Use this filter to aggressively target folks who need to show results in their first 30/60/90 days and offer your help in establishing themselves and serving their new cohorts.
Save Searches in LinkedIn Sales Navigator
Do you have a segment you'll be continuously researching over time? A well you'll keep drawing from to research more contacts? Once you've set your search parameters and researched all available contacts, click "Save Search" to save your parameters in Sales Navigator.
Once you do, Sales Navigator will automatically track new contacts that qualify for your search due to updates in their LinkedIn profile. You can even opt into notifications to get a heads up when there are new contacts to review. When you click on the net new contacts, our Chrome extension is still right there, waiting to help you research the real time direct contact data available across their entire digital footprint.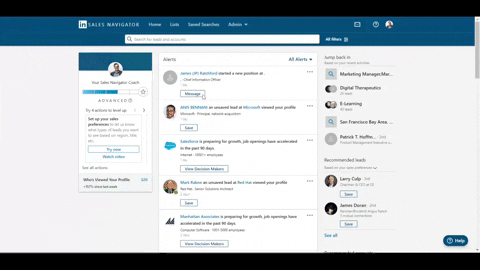 This feature is a great way to continuously build pipeline for a specific niche that you know is going to consistently deliver new business.
Save Prospects' LinkedIn Profiles to Lead Lists in Sales Navigator
Do you want to get notified about updates like job changes or content posts for specific segments of users you've researched in Sales Navigator? Then save them to a Lead List.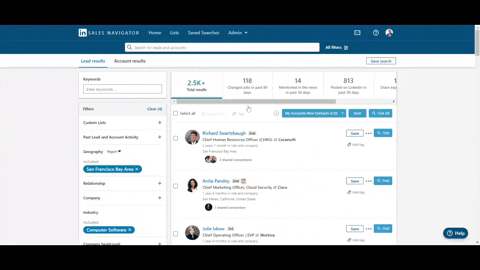 Lead Lists will track and send you notifications for profile updates, job changes, shared experiences and other unique data points to LinkedIn's activity that help you build rapport with your contacts and identify the exact right time to reach out or deliver value.
Since the Lead List feature delivers so much value to Sales Navigator users, we've made sure the Chrome extension functions over Lead Lists exactly like it does over search results. That way you can double up on value by saving contacts to Sales Navigator Lead Lists and then immediately researching those contacts using Seamless.AI's Chrome extension.
How do I know if it's worth upgrading to Sales Navigator?
The best way to find out is to try it for yourself.
Sign up for a free trial of Sales Navigator here.
Try running your research using our Chrome extension and compare the time dedicated to list building to your efforts without it.
How much time did you save in one day?
How many more leads does that turn into?
How many more meetings?
How much more new business?
If LinkedIn Sales Navigator saves you even one hour of research time per day, your time would have to be worth less than $3 an hour to not make it worth the investment.
It's your call. You don't need Sales Navigator to use Seamless.AI, but it's one of the surest paths to hitting six figures or seven figures in a year. It's how our power users search, and we want you to replicate that level of success. Hopefully these pro-tips help you evaluate adding Sales Navigator to your technology stack, and we're happy to help with any other questions you may have about getting the most out of Sales Nav + Seamless.AI.